$16M Design Build Complex Coming to Rantoul, Illinois
When the village of Rantoul's board unanimously approved a $16.5 million contract with Byrne & Jones to construct the major portion of a new sports complex, there was plenty of excitement. That's because board members know that the new complex will serve as an economic shot in the arm for Champaign County.
The contract calls for Byrne & Jones to design and build eight baseball/softball fields, two accessible t-ball challenger fields and eight soccer/football/multi-purpose fields. There will also be three buildings for concessions, restrooms and maintenance, a splash pad, playground and 800-plus parking places.
Initial work is now underway with a completion date of March, 2021. With Byrne & Jones at the helm, the board knows it will have a top tier complex. According to Rantoul Rec Director, Luke Humphrey, "We're definitely going after a segment of the traveling industry and will be able to host regional and super-sectional tournaments."
The village of Rantoul has already received seven verbal commitments or letters of intent from organizations interested in booking tournaments beginning March 2021. "When you look at these organizations, the complex will be in high demand from March through October," Humphrey said.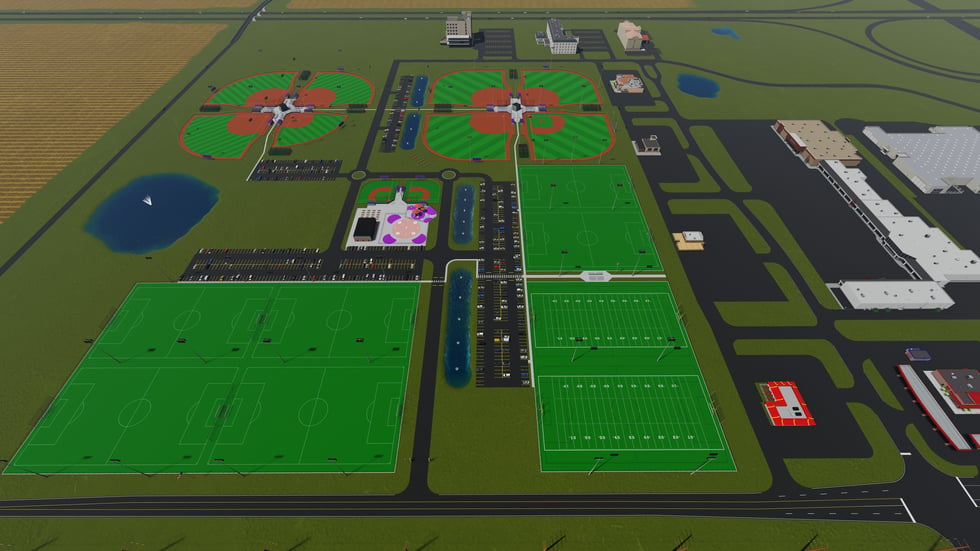 Illustration: Rantoul Sports Complex (above)
---
The contractor of choice for O'Fallon Parks & Recreation
A perfect example of that process at work can be seen with the recently completed Family Sports Park built by Byrne & Jones for the City of O'Fallon Parks & Recreation. The $11 million dollar Family Sports Park expansion was completed in 6 months, nearly 10 months quicker then projected by a St. Louis design firm. According to Mary Jeanne Hutchison, Director of O'Fallon Parks & Recreation, "By working with Byrne & Jones as an approved vendor in a cooperative purchasing program, they helped streamline the entire project, saving the citizens of O'Fallon over $1 million in costs without removing anything from the scope of the project."
According to Hutchison, "three hotels have been built since the town's sports complex was created, giving O'Fallon about 1,200 hotel rooms. We've also had three residential subdivisions spring up around the sports park." Her only regret is that not all of the fields were built utilizing artificial turf.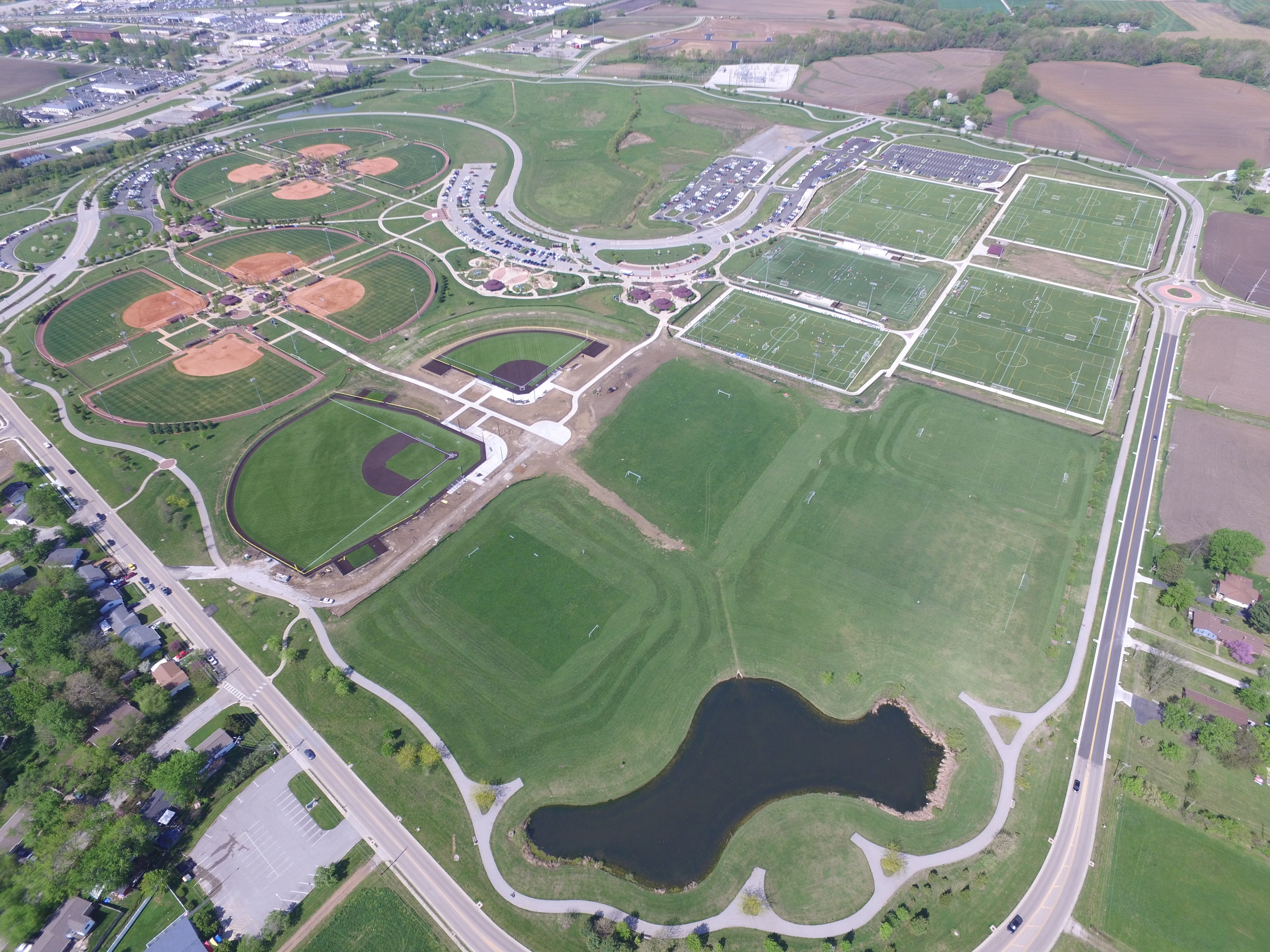 O'Fallon Family Sports Complex(above)
---
Guaranteed pricing, scheduling and outstanding results in all aspects of construction makes for an unbeatable combination.
A sports complex featuring artificial turf fields can be an economic boom to a community, attracting teams and tournaments on a regional basis and serving as the focal point of new retail and commercial development. And throughout the state of Illinois, communities are turning to Byrne & Jones Sports Construction as their builder of choice.
As one of the leading sports complex and athletic field builders in the Midwest, Byrne & Jones Sports Construction has the know how, manpower, equipment and scheduling ability to handle virtually any project, large or small. As an added bonus, Byrne & Jones is a member of multiple purchasing cooperatives, allowing members to save time, money and lots of aggravation that is often associated with bidding out construction projects.
---
Edwardsville excited about potential of Plummer Family Park
Artificial turf fields are just the beginning with the $12.8 million dollar Plummer Family Park that is being developed in Edwardsville, Illinois by Byrne & Jones. This new, multi-use park will consist of four baseball/softball fields (including one accessible field), twelve pickleball courts, six multipurpose fields, concession/pavilion building, and all associated parking, roadway, lighting, and landscaping to support the park functions.
Upon completion, the Plummer Family Park will play host to regular community groups and leagues with the potential for hosting large tournaments and regional events that will bring added tourism revenue to the city.
Unlike the O'Fallon Family Sports Park, the Plummer Family Park was publicly bid. Competitive pricing, a proven track record and the fact that Byrne & Jones self-performs all its work were all reasons why Byrne & Jones was named the contractor of choice for the park, which is expected to be ready for use in the spring of 2020.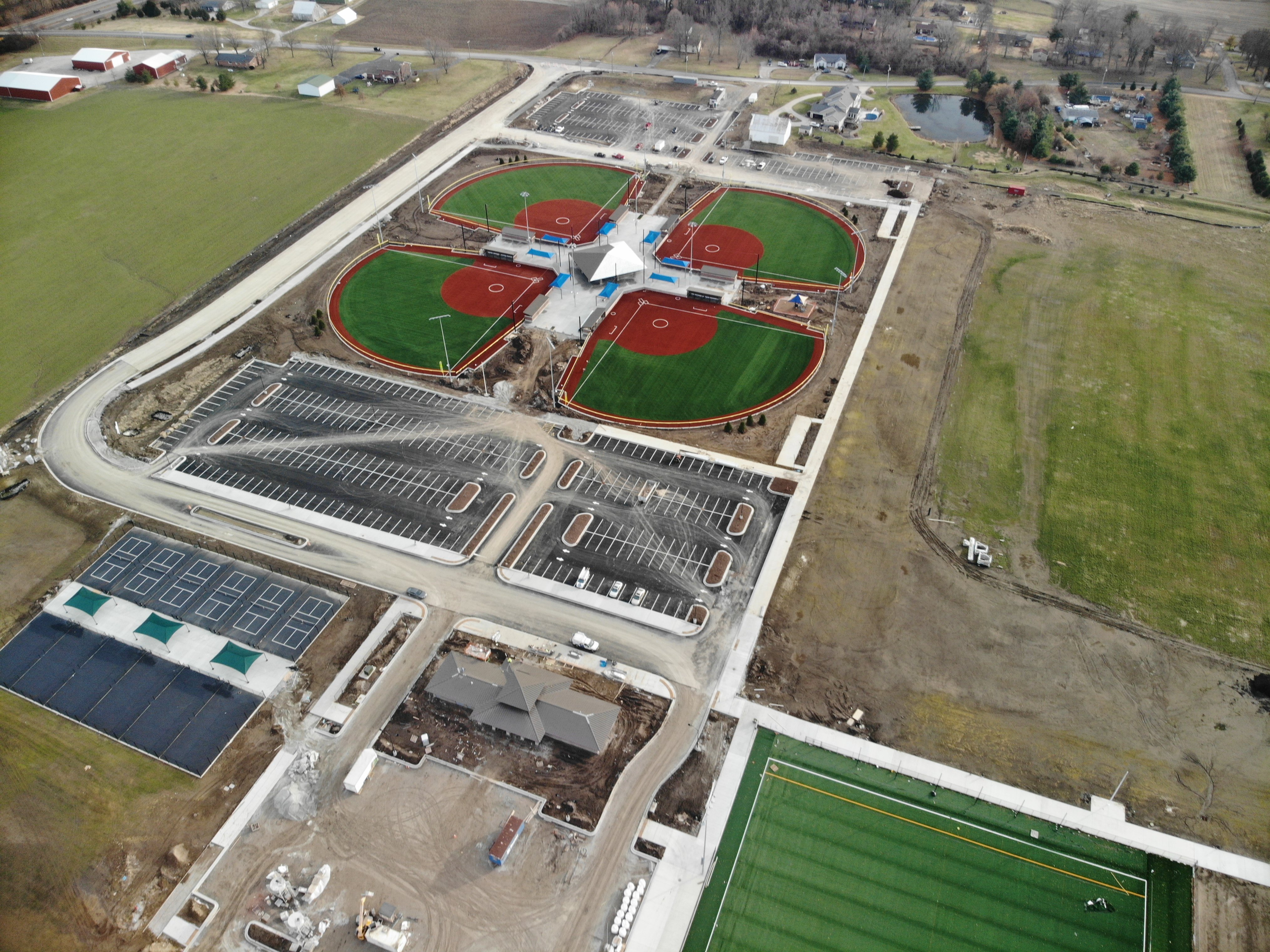 Illustration: Rantoul Sports Complex (above)
---
Byrne & Jones Sports Construction lands Chicago area synthetic turf fields project
The village of Vernon Hills, which is north of downtown Chicago, awarded a multi-field synthetic turf project to Byrne & Jones because they knew they could meet the demands of a very tight schedule while also guaranteeing the cost.
The project consists of 2-1/2 soccer fields, which can also be used for lacrosse. According to Joe Schuit, Sports Construction Consultant at Byrne & Jones, there was a level of trust that led to the decision. "The village had a completion deadline of May 1, 2020 and made the decision to save time and money by avoiding the traditional design, bid, build process and instead utilized the TIPS purchasing cooperative. They knew they could count on Byrne & Jones to be both on time and on budget - and we will."
---